Rapid Prototyping is becoming a fundamental phase of today's Product Development Process. It provides Marketing Managers, Production Managers, Purchasing Agents, etc. with a hands on example of the product. The early intervention of these key people can save months of work, and speed the completion of the project.

We can fabricate prototypes using several different forms of rapid prototyping. Our vendors range from stereolithography for plastic components to CNC and rapid sheet metal prototyping. With a large list of certified vendors, we can fabricate prototypes for any project at a reasonable price.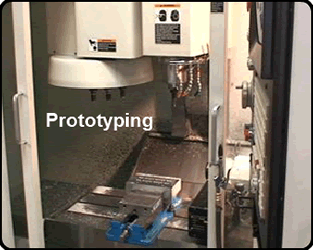 We use prototypes to test for product design compliance, and many of our customers use them for marketing. A realistic prototype can be used to sell your idea to perspective distributors and investors.
To learn more about the process of developing your product and prototyping methods, click here.